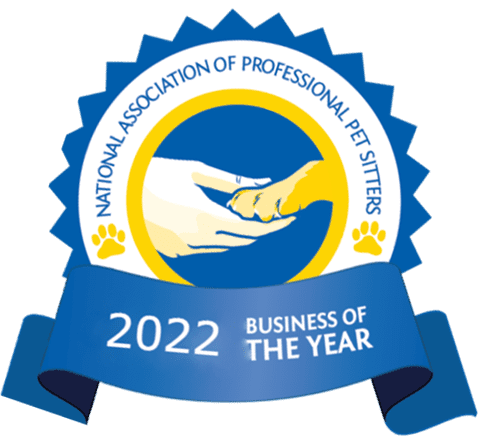 National Association of Professional Pet Sitters
2022 Business Of The Year
Fur Services Fur Pets is proud to be the NAPPS Business Of The Year for 2022. This award is presented to businesses that demonstrate outstanding business practices and vision in maintaining and growing their business. This award celebrates a business that shows a commitment to the profession and community.
Fur Services Fur Pets is a Professional Dog Walking Company. We believe one of the keys to being a professional company is consistent, quality education by dedicated and trained sitters. Our Pet Companions are constantly learning and growing to become better at what they already excel at. From learning proper leash techniques, encouraging basic commands to knowing what to do (and doing it) when an unexpected dog comes up during a walk – our team trains on all of it!
Our Team Offers a Variety of Dog Walking Lengths to
Match Your Dog's Exercise Needs.
Holiday Fees will apply to all reservations booked during the following days throughout the year: New Year's Day, Easter, Memorial Day, July 4th, Labor Day, Thanksgiving Day, Black Friday, Christmas Eve, Christmas Day, New Year's Eve. Holiday Fees are subject to change and vary by service.
Non-Refundable, Non-Transferrable, Non-Creditable Deposits will be required throughout the year during certain holidays and over certain excessively busy weeks.
AREA "A"
Inclusive of First Two(2) Pets.

20-25 Minutes Walking
AREA "B"
Inclusive of First Two(2) Pets.

20-25 Minutes Walking
AREA "A"
Inclusive of First Two(2) Pets.

35-40 Minutes Walking
AREA "B"
Inclusive of First Two(2) Pets.

35-40 Minutes Walking
Discounts apply for pre-purchased packages of 15 or more walks or full months paid in advanced
Consistent walking is important for your pup!
Did you know Dog Walking is not just for exercise? Although it is a great form of exercise, each time our team walks your dog it provides so much more:
Mental Stimulation: as your dog sniffs the new path we take, they are exploring the world. Your dog is stimulating its mind while sniffing where other dogs were, seeing new things and hearing new sounds.
Socialization and Confidence: the world is a scary place, but what makes it more scary is when dogs don't experience it regularly. Encountering sights, sounds and smells while also seeing other people and dogs is part of your dog's learning process. Dog Walking on a regular basis with our Pet Companions can provide this Socialization and Confidence.
Obedience: It is a well known fact that a tired dog is a good dog! When your dog is able to release built up energy, they tend to listen more, get into less trouble and they are easier to train! It doesn't hurt that the Fur Services Pet Companions work on basic obedience with your dog while out on their walk!
Boredom & Behavior Symptoms: Chewing, anxiety, destruction, digging can be stressful for pet owners. Often they begin because of boredom or lack of one of the above and they can end up in significant behavior situations. Mental Stimulation, Exercise, Socialization and Confidence Building and Obedience training work together to prevent boredom and most behavior issues.