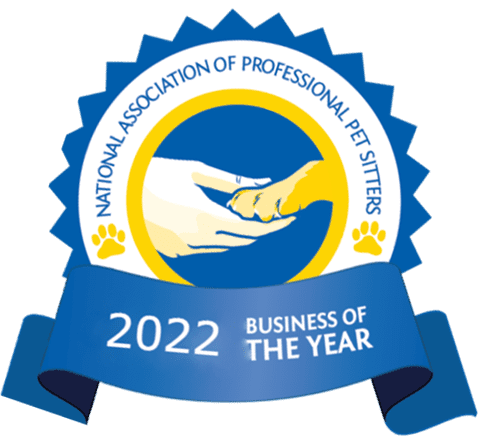 National Association of Professional Pet Sitters
2022 Business Of The Year
Fur Services Fur Pets is proud to be the NAPPS Business Of The Year for 2022. This award is presented to businesses that demonstrate outstanding business practices and vision in maintaining and growing their business. This award celebrates a business that shows a commitment to the profession and community.
Fur Services Fur Pets is a Professional Pet Care Company. We employ trained and skilled pet sitters that are as obsessed with pets as we are! We believe the secret to providing the best dog and cat services is to offer peace of mind – whether it is while you are out of town or while you are at work – you have no reason to worry when you hire us!
Mid-Day Potty & Play Breaks are the Perfect Service for Your Puppy, Senior Dog or any Pup in Between!
Holiday Fees will apply to all reservations booked during the following days throughout the year: New Year's Day, Easter, Memorial Day, July 4th, Labor Day, Thanksgiving Day, Black Friday, Christmas Eve, Christmas Day, New Year's Eve. Holiday Fees are subject to change and vary by service.
Non-Refundable, Non-Transferrable, Non-Creditable Deposits will be required throughout the year during certain holidays and over certain excessively busy weeks.
AREA "A"
Inclusive of First Two(2) Pets.

20 Minutes
AREA "B"
Inclusive of First Two(2) Pets.

20 Minutes
AREA "A"
Inclusive of First Two(2) Pets.

30 Minutes
AREA "B"
Inclusive of First Two(2) Pets.

30 Minutes
Discounts apply for pre-purchased packages of 15 or more walks or full months paid in advanced
Mid-Day Potty & Play Breaks offer so much more than "just a potty break" while you are out:
Socialization Skills: with our unique Pet Companion Team Structure, your puppies learn that all different people are safe and good. Socializing puppies young is an integral part of a happy, healthy and well-adjusted forever pup! Socializing is equally important for adult dogs that haven't had the opportunity to meet a lot of people.
Play: Our Mid-Day Potty & Play visits are just that! Our staff is there to PLAY with your dog. Whether their favorite game is fetch, keep away or tug, we let them lead us on how they want to spend this time! It's generally only takes a couple of visits before your dog learns we are there for THEM and just to PLAY!
Basic Training: We know that for your dog to be a great member of your household it needs to have Great manners! While we are there, we reinforce training your dog already knows and we teach other skills that are important for a well-rounded pup!
Potty Training Assistance:  whether you have a new puppy or a new rescue dog, Mid-Day Potty & Play breaks work hand-in-hand with your current potty training efforts to be sure your pup has the opportunity to relieve itself before it has the chance to go potty inside!  We can offer one more multiple breaks throughout the day/evening to assist with the perfect potty training schedule!
Potty Breaks: Most dog owners are gone for 9-11 hours a day while working. Between working, lunch breaks and commute time, that is a LONG time for your dog to hold her potty! And, in reality, having to hold her potty that long can cause long term medical problems. Once a dog learns she can potty in the house or in her crate, she is more likely to be less concerned the next time she really needs to go. Regular potty breaks during the day allow her to relieve herself without it becoming a desperate need.
Mental Stimulation: Bored dogs get in trouble, develop anxiety and get destructive. The mental stimulation that comes with playtime, training and spending time with different people can go a long way towards stimulating your intelligent pup.