Welcome!!  We are so excited you are here!!

You've probably found us because you have a passion for pets and you are interested in a career working with them!  (Who wouldn't want to get paid to love on pets all day?)  A career with Fur Services Fur Pets is rewarding, uplifting and filled with lots of furbabies!
Compensation
Our team averages $14.09 – $17.42 per hour during their first 90 days (non-negotiable). Our pay structure is comprised of:
Hourly Wages + Mileage Reimbursement + Gratuity (when applicable)
Successful team members receive a pay bump at 90 days.  Employees are eligible for pay bumps at 6 months and 12 months.  Sick Leave / Paid Time Off accrues on an annual basis based on the prior year's hours worked.  After 90 days, employees make an average of $18.11-$19.64 per hour (non-negotiable) depending on their longevity with the company and availability to work.  Team members that have been employed with us for more than a year enjoy average wages of $21+ per hour.
You may love all creatures great and small, or maybe you have a passion for pups and kitties!  To make sure you are a GREAT fit for this position and for Fur Services, we ask that you take some time to read the description of our position below.  So sit, back, grab a cup of coffee or tea and check out everything about our Pet Companion Position and the details of working with us.  We can't wait to read what you have to say and contact you for an interview!
Our Purpose: We offer worry-free care with wag-worthy results.
Our Mission: We put pets first and do our utmost to prioritize what's best for them.
Our Vision: Our vision is to lead and establish a nationally accepted standard of care across the in-home pet care industry, creating exceptional and worry-free experiences for all clients and their pets.
Our Core Values:
Stellar Staff Support. We understand worry-free care only happens when you have a staller staff that feels confident and supported; so, we ensure every staff member has the proper education, training, flexibility, and open communication they need to be successful.
Pets-First Priority. We believe in making decisions based on what is best for the pets under our care, and that means we prioritize their needs first.
Life Happens. We know that life happens, and to make the most of our days, we practice flexibility with both our clients and our staff while still upholding high standards – when we can, we make it work.
Worry-Free Care. Our purpose is to ensure our clients are completely worry-free when their pets are in our care, and we take great pride in delivering an exceptional level of responsible, personalized, trustworthy, compassionate, responsive, and reliable service and care.
Education. We believe education never ends, and whether we are learning about the latest trainings and techniques or sharing important pet care information with our clients, education is an important part of how we can consistently create exceptional and worry-free experiences.
"Pet Companion" is the term we apply to our Pet Sitters and Dog Walkers.
Our Pet Companions main responsibilities include:
The overall safety and well-being of the pets in their care
The safety and security of the home in which the pets live
Relaying peace of mind through clear communication, quality photos, constant positive interaction with pets and knowledge of pet care.
Foster pet happiness through play, love, stimulation, manners training, activity and overall positive interaction with the pets in their care
Following specific instructions, paying attention to detail and attending to the "small things."
We schedule pet sits and dog walks seven days a week between the hours of 7am to 10pm. Most often, visits are not scheduled to start before 7am and the last visit is scheduled to start no later than 10pm.
A Pet Companion's day will be filled first and foremost with lots of love, adoration and attention from dogs and cats of all sizes, shapes and personalities. We watch dogs as little as a pound all the way to dogs that are over 100lbs. We watch all breed dogs and cats. We also watch any caged pets in client's homes. Being comfortable and able to care for pets of all kinds and sizes is a must.
Pet Companions are constantly on the go. Pet Care visits last anywhere from 15 minutes to 60 minutes in length. Pet Companions will be driving to/from visits as part of the job. Although we do our best to make routes that are as close together as possible, sometimes you will spend 20-30 minutes driving in between visits. Pet Companions will start and end the day at the Fur Services Fur Pets office in Savannah.
Visits are timed and Pet Companions are expected to stay off their phones and continue interacting with pets, cleaning up messes and performing job duties throughout the entirety of the timed visit.
Pet Companions will constantly be learning through online learning portals, books, videos and team training.
Pet Companions must be able to move constantly. Between playing with dogs in the backyard, cleaning up potty messes, taking dogs on walks, scooping litter boxes, cleaning up toys and constantly interacting with the clients in our care: pet sitters hardly ever sit down. The plus side? You get paid to be outside, petting sweet pets and exercising!
Pet Companions need to own a smart phone with a great quality camera and fully-functioning battery. It is important to have unlimited (or very high limit) data. Our team uses a employee-facing app that GPS tracks visits, allows access to pet information and allows communication with clients.
Working at Fur Services Fur Pets provides the benefit of flexible scheduling. We can work around school, work and family schedules as long as ample notice is given. This is not a job where you can easily call in sick, but, with proper notice most schedules can be worked around.
If your availability is open and flexible, it is possible to work close to full time hours year round.
The amount of work you are scheduled for depends upon:
Your availability schedule
The reservations we have booked
We do not guarantee a minimum number of hours or monetary compensation
Due to the nature of scheduling, it is quite common to be scheduled for one or two visits, have an unpaid break and then be scheduled for more pet care visits.
Pet Companions work in all-weather including rain, extreme cold and extreme heat (and everything in between). Team Members must be prepared for ice, snow, pouring rain, cold temperatures and staying hydrated in extreme heat. Rain gear is highly recommended as well as non-slip footwear for wet or slippery conditions.
Fur Services Fur Pets views client confidentiality, privacy, trust and their personal & property protection as the second most important aspect of our jobs (the care of the pets being the absolute most important aspect). It is imperative that we foster confidence and trust at all times with our clients.
Friends, family, children or other pets are absolutely, at no time allowed to accompany you on visits – including – in your vehicle while you perform a pet care visit.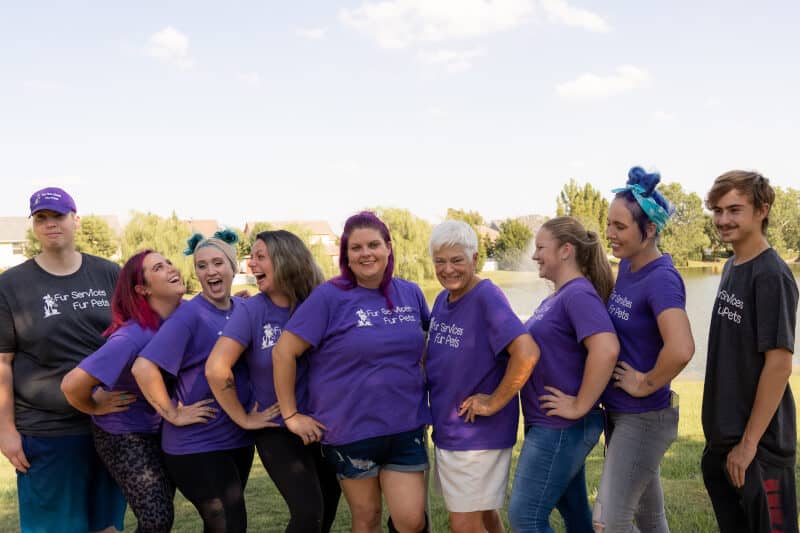 APPLICATION FOR EMPLOYMENT