Poo B Gone
This quality-focused, locally-owned waste removal company is top notch. They have been scooping for us for 5 years and we wouldn't trust anyone else. Detail-oriented and focused on the health and safety of our pets, you can't go wrong choosing them for all of your scooping needs!
Poo B Gone services homes all over the Metroplex including The Colony, Savannah, Frisco, Paloma Creek, Providence Village, Celina, Prosper and Cross Roads.
www.poobgone.biz
(972) 247-6964
Alpha Dog Mobile Grooming
Local Groomer, Michael Joe is wonderful with all three of our senior pups! He is careful and gentle with our oldest, patient with our middle and great with our aggressive male. He is one of the top referred groomers along the 380 Corridor!
Michael Joe's Alpha Dog Mobile Grooming travels to Savannah, Paloma Creek, Little Elm, Cross Roads, Prosper, Aubrey, Frisco, The Colony and beyond!
(214) 490-5983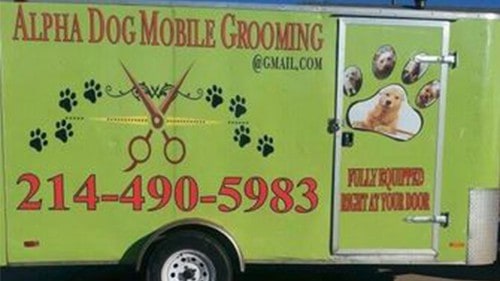 Mr. Wigglebottom's
Mr. Wigglebottom's makes high quality dog shampoo. Their product contains organic ingredients, contains no parabens or sulfates, is cruelty free, pH balanced specifically for dogs and is made in the U.S.A.
Groom Me Good
Groom Me Good is a fantastic mobile grooming services that comes to your door! Chastity is passionate and dedicated to each of her pet-clients! Customers should be ware she does use your bathroom to groom in. She is one of the top groomers along the 380 Corridor!