Dogs play an important role in the lives of everyone lucky enough to have one. For some people, a loyal dog is the difference between life and death. Canines play many valuable roles in the United States Military and have for some time. Officially dogs have served in the military since World War Two. Unofficially, they have served alongside man since The Revolutionary War. These brave animals deserve our respect and appreciation for their valiant service. March 13th is K-9 Veterans Day. Fur Services Fur Pets would like to pay tribute to all dogs who have served past and present.

Historically, a variety of different dog breeds have served in the military. Today, however, German and Dutch shepherds and Belgian Malinois are most often used in the Department of Defense Military Working Dog Program. These breeds are trusted for their intelligence, courage, and athleticism. The United States War Dog Association tells us that dogs provide numerous invaluable services for the military:

Explosive Detector Dogs

These dogs are trained to smell bombs. Most EDD dogs are assigned to members of the Military Police. Dogs and handlers spend months fine-tuning their skills at Lackland Airforce Base.

Specialized Search Dogs

Similar to an EDD, a Specialized Search Dog is responsible for finding explosives. These dogs, however, work off-leash with their handlers. An SSD works at great distances from their handler and takes direction from hand signals. The Marines give their SSDs radios, through which they can receive commands. The Air Force and The Navy don't use SSDs.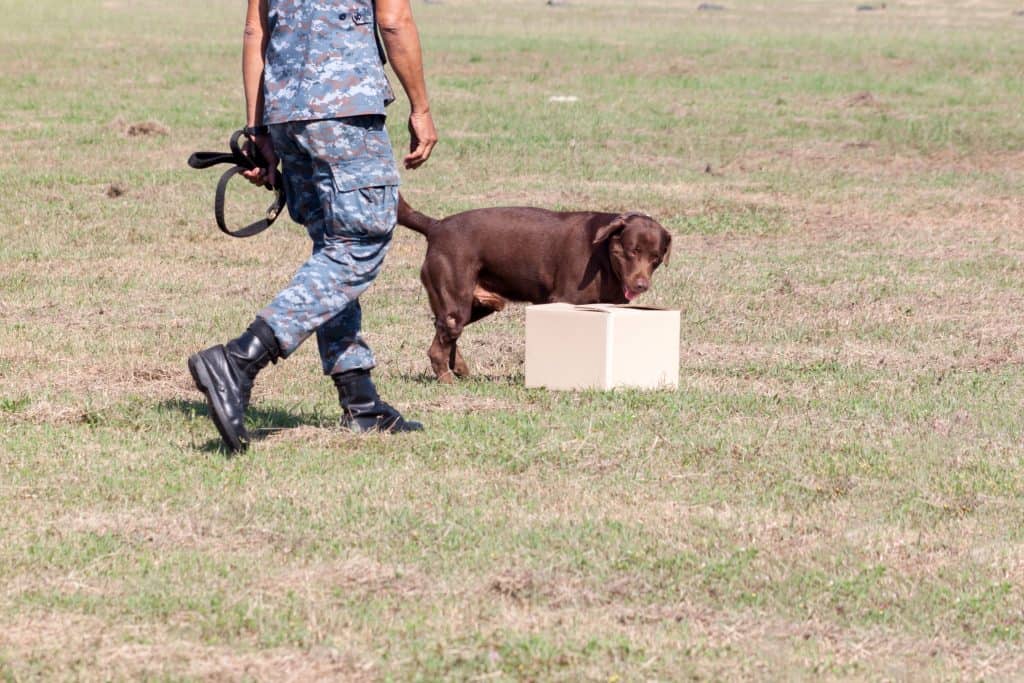 Combat Tracker Dogs

When The Marines need to find someone, they utilize a CTD. Think of the manhunts in old movies. A Marine will have a dog on a long leash. Their strong sense of smell helps these wagging warriors find their man.

IED Detector Dogs

The War on Terror introduced the world to the Improvised Explosive Device (IED). An IED is created when terrorists bury explosives in unexpected places. U.S. forces have suffered great loss due to the dangerous invention. To combat this, The Marine Corps run a program made up of sporting dogs and their handlers to find the explosives and save lives.

Multi-purpose Canines

These dogs are the elite of the Department of Defense Military Working Dog Program. They have a variety of skills and work with Special Operations forces. These highly-focused and motivated dogs can even rappel and parachute. The dog used to find Osama Bin-Laden was likely an MPC.
These are only some of the invaluable jobs that dogs have in the military. They also find narcotics and provide a range of services for federal agencies. Fur Services Fur Pets is grateful for the hard work and sacrifice of everyone who serves our great country, on two legs and four. Please continue to follow our blog for more great stories and tips.