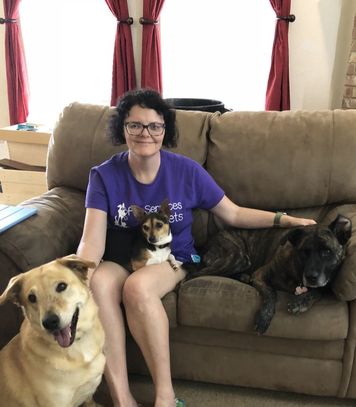 Angie Henri hails all the way from Reading, England.  She has a home full of loving pets.  Her four dogs are big Star Wars fans.  Jedi is an eight-year-old lab/border collie mix, Princess Leia is a Six-and-a-half-year-old Brindle/Pit Bull mix, Lando Calrissian is about six and a Rat Terrier mix, and then Gracie is approximately four-years-old and a Lab mix.  Then there is Gizmo, the thirteen-year-old cat.  Staying far away from Gizmo are two rats named Gronk and Edelman.  Finally, she has two hermit crabs.
Angie joined the team because, "Way back we had to put our dogs in kennels when we were on vacation and when we came back they were so stressed out! We said never again and found Fur Services Fur Pets. I want to do for other pets what they've done for ours when we are away. Provide quality, loving, and affordable care."
​Her first pet was  a beautiful brown/tan Doberman named Toby.